ANE Releases 2021 ESG Report
2022-06-06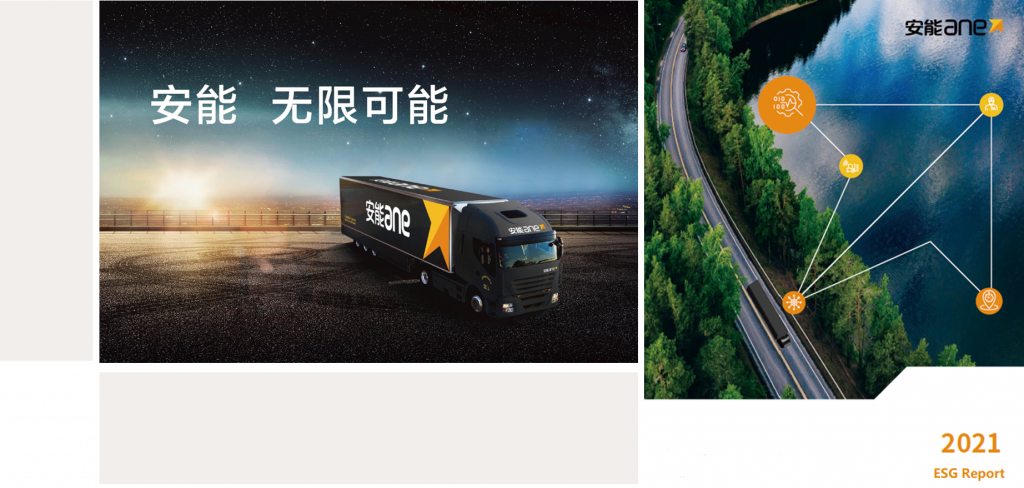 June 6, 2022, Shanghai -- ANE Inc. (9956.HK), a portfolio company of Centurium Capital and a leading less-than-truckload (LTL) logistics service provider in China, released its 2021 ESG Report on May 31, highlighting its ESG commitments and efforts in green operation, efficiency improvement, supply chain management and employment management in 2021.
Jeff Wang, Chairman of ANE, commented, "We are highly aware of the importance of Environment, Social and Governance (ESG) while developing our business. It is our corporate responsibility as an industry leader to integrate ESG into the Company's daily operations and management philosophy."
Michael Chen, Managing Director of Centurium Capital and a non-executive director of ANE, serves as the chairman of ANE's ESG Committee. The committee was set up under the Board of Directors since the company's IPO, forming a three-layer ESG governance structure which comprises the Board of Directors, the ESG committee, and the ESG work group. The concept of sustainable development is implemented in an all-round, multi-angle manner, launching a new chapter in ANE's ESG governance.
As a leader in the less-than truckload (LTL) express freight industry, ANE operates one of the largest self-operated truck fleet in China's LTL industry with over 4,000 high-capacity trucks and 4,600 trailers. The company has been committing significant resources to effectively reduce the impact of road transportation on the environment.
In 2021, ANE has identified climate change risks and continued to promote low-carbon development through green transportation and green office initiatives. Moreover, ANE has formulated energy efficiency and greenhouse gas emission targets, with a plan to increase the use of renewable energy, and energy efficiency of its transportation vehicles to achieve such targets and promote green development.
The ESG Report revealed that ANE has reduced the consumption of petrol by 19,288 tons through various fuel-efficiency measures and reduced green-house gas emission of the equivalent of 60,647 tons of carbon dioxide.
ANE has also proactively explored the use of renewable energy. Its Logistics Industrial Park in Changshan, Quzhou took the lead in installing 6,000 square meters of rooftop distributed photovoltaics to provide renewable energy power for itself and the park tenants, promoting low-carbon development in the community. In 2021, the power generation capacity of the industrial park's rooftop photovoltaic project reached 32,000 kWh, effectively achieving energy savings and emissions reduction.
An excellent IT system is the cornerstone to support ANE's outstanding performance in operational efficiency and end-customer experience. Based on big data, cloud computing and other technological advances, ANE independently developed 56 sets of digital systems for application in all aspects of its operations, promoting the integration of technological innovation and actual operations, implementing digital operations and intelligent decision-making along the entire chain, and effectively reducing operational costs.
ANE has a large logistics management network and relies on an innovative freight partner platform model to attract regional freight operators to join its ecosystem as franchisees and agents. ANE currently has 29,100 freight partners and agents and serves approximately 3.9 million shippers.
Through the continuous optimization of network entry standards and requirements, tracking and evaluation, and value-added empowerment initiatives, ANE works with its franchisees to build a highly efficient, high-quality, and digitalized logistics network.
ANE also share the economic results with its partners, using its accumulated data and industry insights to provide its freight partners and agents with a variety of value-added services (financial and digital tools) to help them develop competitive freight services for large customers. The company also provides operational guidance to help freight partners cope with the increasing complexity of business expansion. Through these resource-sharing initiatives, ANE's freight partners and agents can leverage ANE's network coverage, brand recognition and operational support to better serve shippers in the long term.
ANE understands that high-quality corporate governance and a management structure with clear lines of authority are the cornerstones of sound corporate development. Therefore, ANE constantly improves its governance structure, strengthens its hierarchical management structure and enhances the transparency of the Group.
ANE fulfills its social responsibility by implementing the safety production policy "safety first, prevention first, comprehensive management", ANE takes on the main responsibility for safety management, strengthening the grading and control of safety risks and the management of hidden dangers in the production area, and guaranteeing the safety of its employees' life and property.
ANE's safety training covers all aspects of possible safety hazards in its operations, such as operational norms, fire safety, emergency rescue, and safe driving, covering all of ANE's front-line operators and drivers. In 2021, ANE conducted 69 safety trainings for new employees and over 1,900 trainings for sorting centers, and more than 30,000 people participated the trainings.
ANE has set up targeted training programs for employees at different levels and with different responsibilities and increased the flexibility of training through a combination of online and offline training formats. In 2021, ANE invested more than RMB11 million in employee training covering all employees and reached 34,476 person/times, with 6.5 employee average training hours.
ANE pays attention to the cultivation of employee talent. The company has a competitive performance-based compensation system and encourages employees to showcase their self-worth through a comprehensive promotion system, tailoring career development paths for employees in different positions and ranks. ANE is committed to creating a diverse workplace, focus on the value of our female employees, and provide equal employment opportunities.
In 2021, ANE continued to invest in taking corporate social responsibilities by giving back to the society. ANE was actively involved in a number of public welfare projects, such as helping farmers to alleviate poverty, fighting the pandemic and natural disasters, making donations, and investing a lot of money and manpower to take up social responsibility and establish a good corporate image.